Binding System - BM750
Competence for horticulture and landscaping
This machine was specially developed for bundling of stems, cut flowers, brushwood or sticks and is mainly used in nurseries.
Equipped with a knotting system working according to the Deering principle the BM750 facilitates reliable bindings. Starting with the twine sliding gently from the hook of the knotter, whole binding process is optimized to protecting the plants in the bundle.
In the basic configuration this machine operates with polypropylene twine with a running length of 300 – 750 m/kg.
The universal drive concept offers the choice between an electrical operation and a mechanical use via PTO. Equipped with big wheels and a high ground clearance the BM750 is meant to be used in rugged places as well.
The stable working table allows bundles up to about 300 mm diameter and the depth of nearly 750 mm prevents the plants or stems from being bended or damaged during the bundling process.
This machine requires low maintenance and can be simply operated, maintained and repaired by within a short time.
With the implemented safety installations we reliably protect user and machine from danger and damaging. Due to the simple and ergonomic handling during operation, we could increase the acceptance among the users.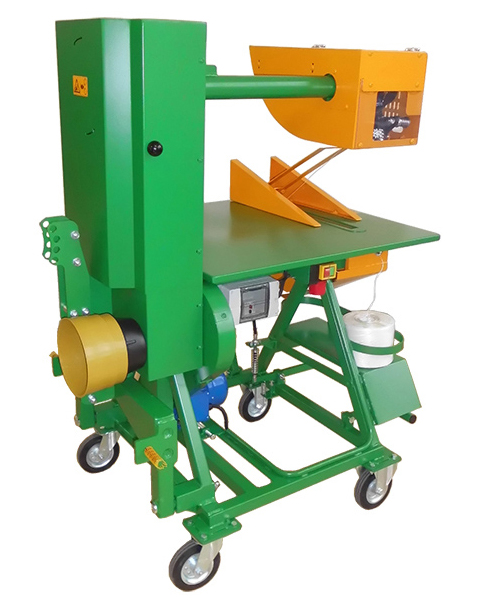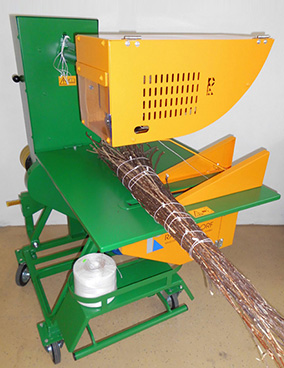 Technical Data:
Dimensions L x W x H: 1180 mm x 1050 mm x 1600 mm
Weight: 270 kg
Passage height: 300 mm
Working depth: 750 mm
Ground clearance: 200 mm
Table dimensions L x W: 970 mm x 870 mm
Twine: 300 m/kg - 750 m/kg