Swing Arm Mulcher FS-800
Protecting and reliable soil care for row plantation
The Swing Arm Mulcher FS-800 is an implement for soil care which can be used in connection with different agricultural tractors. Its standardized interface facilitates the attachment to the tracking machine.
In the field, pulling operation (rear attachment) or pushing operation (front attachment) is possible. This device with spring-loaded swinging arms adapts perfectly to row sizes and cuts reliably grass and scrub, also in the spaces between trees.
The variable height adjustment in 3 steps allows cutting heights from 8 to 14 cm. Depending on the ground consistance, the FS-800 can operate with wheels or skids (standard). The flexibly mounted blade guards protect plants from getting damaged by the rotary blades.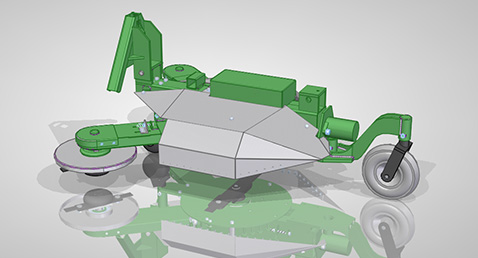 The field of application is mainly Christmas tree plantations or other row nursuries consisting of homogenous stands from the 4th year of standing and rows with a max. distance of 90 to 125 cm.
Independent of the mode of operation, hydraulic drive 25 l/min (160 bar) with oil flow is an option. The PTO drive with connected speed of 540 min-1 is exclusively intended for the rear attached version.
view video
Technical specifications:
Length: 110 cm
Minimum width: 80 cm
Height: 45 cm
Weight: ca. 170 kg
Cutting height: 8 – 14 cm
Cutting width: 90 – 125 cm
Connected load: ca. 8 kW
Characteristics:
Protection of plants due to smooth guiding of branches
Adapts to the soil structure due to tilting possibilities (+-15°) along the moving axis.
Low weight
Variable cutting height and cutting width
Applicable for pulling or pushing operation
Optional PTO shaft or hydraulic junction possible
More information: