Fruit Robot
Autonomous system for agricultural purposes such as spraying, tillage, fertilization, contour cut, harvest, and transportation
The fruit robot "Cäsar" is a remote-controlled special purpose vehicle able to perform temporarily autonomous operations in orchards and vineyards.
The autonomous operation mode supported by a traditional GPS (EGNOS and GLONASS satelite system) and a correction signal.
The wireless signal can be transmitted via a base station (RTK) or via a mobile communication device. As a result we achieve an absolute and repeatable accuracy of the drive path of 2 to 3 cm.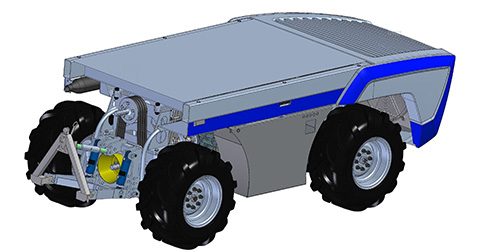 Characteristics:
The fruit robot can be controlled from the farmyard to the orchard or vineyard by using a remote system device. From there, the vehicle is able to drive autonomously according to saved tour plans.


These plans can be set up and programmed during the planning stage of the orchard or vineyard. After having transmitted the saved plans onto the board computer, the autonomous operation mode can be controlled via the on board computer of the fruit robot. Another option is to drive along the drive paths, and record and save them to the on board computer.


If the fruit robot encounters an obstruction, it has an emergency stop built in to prevent any collision.
Requirements for the autonomous operation are a free drive path in a closed orchard, and specially trained staff.