Origin
1856
The blacksmith Friedrich August Raußendorf buys a workshop in Klein-Boblitz and builds shredding machines
1876
First movable combine harvester
1888
The master carpenter August Raussendorf and his brother Johann, a blacksmith build mounted threshing machines
1906
Development of the first straw baler
1927
Relocation of the company to Obergurig. Start of the production of wider presses
1934
25.000 straw balers have been built
1936
The silver commemorative coin was awarded to the smallest steel-threshing maschine K10 in Frankfurt/Main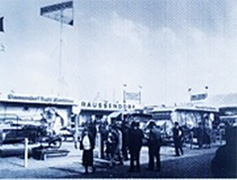 1946
Dismantling of the company Herrmann Raussendorf. Foundation of the Knotter Production by Gerhard Raußendorf.
1972
Nationalization of the knotter production
1991
Relaunch of the company as "Raussendorf Maschinen- und Gerätebau GmbH" by Horst Raußendorf.
2005
Move into the building of the former paper mill in Obergurig.
2006
150th company anniversary. Significant expansion of machinery and increase of the vertical range of manufacture.
2011
Expansion of the vertical range of manufacture provided by two new CNC-turning machines; Extension of the warehouse and production area by approx. 1200 m²
2014
Change of partners for reasons of age. The company has more than 50 employees, students and trainees.